Welcome to the Vision Speak universe!
In "Vision Speak", Willow's super-conscious abilities propel her from introverted art student to a catalyst for humanity's transformation - or destruction - in a dangerous post-apocalyptic world.
The first book in this series, "Vision Speak: Emergence" was relaunched in early 2021 on Amazon. The sequel, "Awakening", is in progress. A feature film screenplay for Vision Speak is available for review by interested producers and agents. Please get in touch via the contact form.
​
Eden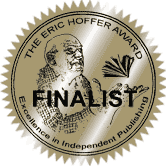 Award
Vision Speak was selected as a Category Finalist for the Eric Hoffer Award for Excellence in Independent Publishing
Excerpt from the US Review of Books about "Vision Speak":
...
"This book is powerful, its vision clear, its storytelling tight and riveting. Vision Speak is worth reading for anybody who can appreciate its immense amount of creativity."
​
​
​
"Preview" the book above or go to Amazon to acquire the eBook or Paperback with the Buy link