Welcome to the Vision Speak universe!
In "Vision Speak", Willow's super-conscious abilities propel her from introverted art student to a catalyst for humanity's transformation - or destruction - in a dangerous post-apocalyptic world.
The first book in this series, "Vision Speak: Emergence" was relaunched in early 2021 on Amazon. The sequel, "Awakening", is in progress. A feature film screenplay for Vision Speak is available for review by interested producers and agents. Please get in touch via the contact form.
​
Eden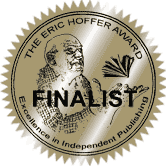 Award
Vision Speak was selected as a Category Finalist for the Eric Hoffer Award for Excellence in Independent Publishing
Excerpt from the US Review of Books about "Vision Speak":
...
"This book is powerful, its vision clear, its storytelling tight and riveting. Vision Speak is worth reading for anybody who can appreciate its immense amount of creativity."
​
​
​
"Preview" the book above or go to Amazon to acquire the eBook or Paperback with the Buy link
2020 has changed how we connect, with the pandemic affecting everybody in the world. For now, collaboration via social media and online platforms are the best way to get together to exchange ideas and for book club reviews. If you would like to join a discussion, fill in your email address.