by Michael Radon from the US Review of Books
"Leaning back, Willow resolved to find her way again, relaxing her mind and body in the way she had been taught, focusing inwards."
​
After the death of her great grandmother Elzabeth, young Willow's life goes from complicated to chaotic. Preparing for a life in the Artist's Community in the futuristic Republic, Willow's time spent with Elzabeth learning about her belief in the meditative practice of Vision Speak transforms her life completely. Proving to be something of a prodigy, Elzabeth entrusts Willow with her journals after her death, involving Willow in family drama, the leaders of the Vision Speak community, state secrets, and even a shadowy cult that threatens to end the world. Now everybody seems to want something from Willow while she simply wants to fade into the background. As world leaders, religious zealots, and her own heart are on a collision course, Willow must make sense of the confusing past of her family in order to protect everyone's future.
​
Blending science fiction, philosophical musings, and allegories to the real world in perfect measures, this is a story that proved too powerful to put down. At first glance, it appears to be standard young adult fare, adventurous and optimistic, but the number of subterfuges and spies on every page lends itself to something more sinister, dark, and ultimately fulfilling for older readers. Each chapter opens with a quote from a philosopher, scientist, author, religious figure, or anyone with valuable insight into the human soul and psyche, a concept that proves itself in the following pages without feeling preachy or heavy-handed. This book is powerful, its vision clear, its storytelling tight and riveting. Vision Speak is worth reading for anybody who can appreciate its immense amount of creativity.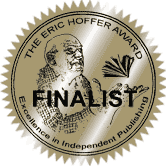 Eric Hoffer Award Finalist for Excellence in Independent Publishing
"Vision Speak" was named a Category Finalist in the Eric Hoffer Awards. Details on this award from their site: "After our rigorous first round of judging, less than 10% of the nominees become category finalists. We consider this a distinction of its own merit and, in 2008, began officially announcing these titles. Finalists are selected by category scoring and considered for category honors. There are typically 1-6 books per category selected as a finalist."
Reader Testimonials
"I'm a huge fan of "culture-based" science fiction -- in the category of Frank Herbert and Dune. Additionally, I'm "all about" higher consciousness, universal energy, and quantum possibilities. Eden Watt's Vision Speak is one of the best novels -- of any kind -- that I've read in some time, and the fact it brings science, culture, consciousness, and quantum theory along for the ride was a huge bonus. It's also a story of triumph, of the power of positive energy, and the "coming of age" for humanity. I'm predicting great success for Vision Speak -- and can't wait for the sequel! Great story, fantastic writing, highly recommended."
5.0 out of 5 stars Thoroughly enjoyed it -- can't wait for the sequel!, February 23, 2011
Amazon Review By
Robert Tipton "Author, JUMP! - Get Unstuck"
​
".... The compelling story moves along at a great pace, the main characters have taken shape in my mind, and the themes of "Vision Speak" need to enter the consciousness of humanity on a wider, broader and deeper ...scale."
I can't wait for the sequel to see how the world is taking shape... No pressure, Eden, but when is the next instalment to be published?"
bob p-w
"I just finished reading the novel and want to let you know that I enjoyed every moment, from the very first word to the last. I'm impressed. By sheer coincidence I had just finished three back-to-back-to-back Dystopia oriented novels in the order of 1) The Giver, 2) Divergent and 3) The Hunger Games. Divergent loses all direction after the first novel, which makes it a total bust for anything beyond gratuitous violence. The Giver is better however loses credibility when it steps over into the realm of demons and sorcery. The Hunger Games is by far the best of the three, but also lacks any real insight into human psychology and spirituality. Your novel beats all of them by a wide margin. The story is cohesive; the language sophisticated without being pretentious; I instantly connected with Willow despite our gender difference, and most importantly, there are at least two clear, thought provoking messages. My only criticism: it was over too soon! Well done."
William K
"This is a fun read with a glimpse into the future a few centuries after the global nuclear war that we all fear. Society has reconvened in a highly structured social welfare state where the citizens are looked after from cradle to grave. Despite the nirvana lifestyle, an underground cult develops to challenge the status quo. VisionSpeak emerges as a powerful tool in the battle of good vs. evil, with lots of twists and turns in the fight to preserve world order. Eden weaves a compelling story around the thoughts and actions of a gifted young woman who is thrust into the middle of the power struggle. Once you are drawn in, you will not be able to put this book down."
John S
​
"Vision Speak" was a great read! I couldn't put it down. It is incredible how this book keeps you on your toes from the beginning to the end. Normally I can predict where the author is going with a book however you kept me guessing as your story line was not predictable, which is refreshing for a change. I was amazed how you were able to leave violence out of the book yet still keep me interested."
Robert H
​
"Vision Speak" is a fast paced futuristic novel which has it all: intrigue, sex, power, religion. It spins a fascinating tale using alluring characters, duplicity, family secrets and mysticism, and engages both the intellect and the imagination of the reader.
Eden Watt has crossed the genre barrier creating a powerful first novel with a caliber of writing and plot intricacy that promises both popular appeal and literary acclaim."
Susan J
​
"I literally just finished reading your book and thought I should get a note off to you immediately. I wanted you to know that I thoroughly enjoyed the book and quite frankly wasn't sure if I would. I tend to enjoy reading historical books and I thought something from the far future wouldn't be up my alley, but I loved it! You have a beautiful writing skill and already I look forward to your next novel. Are you planning to continue the story of Willow and Kalesh? I think it would make a great series!!"
Patti N
​
"Vision Speak" is a good read. It captured my interest from the first chapter.
The story brought to mind a book I read many years ago by Aldous Huxley called "Brave New World". As with that classic novel, this story is compelling and thought-provoking.
"Vision Speak" will delight and beg the author for more. I would certainly love to read a sequel about this new "beginning of mankind" and its strong female characters, especially Willow.
Eden Remme Watt's first novel is a must read for anyone interested in our planet and its survival."
Joyce M
​
"Vision Speak" presented me with a new type of genre that I have never read before. A futuristic, sci-fi, spirtual love story along with adventure and mystery, this book has it all. I could not put it down and finished it in two days. It is nice to read a book that connects humans all around the world with this "Vision Speak."
Miranda
​
"I just finished the most interesting and gripping read. I had never before read anything with this theme. I became quickly 'caught up in it,' and relentlessly 'drawn in' - very hard not to finish it in one reading. The intricacies of the plot were wonderfully brought together in the unique closing and wind up.
Her skill as a writer was evident. I'm not a great reader, so comparisons are not a strong point for me. But I quickly became engrossed in the development of 'Vision Speak' and became increasingly engaged. I sincerely recommend it as a most interesting and intriguing read."
Pastor George
​
"Just finished your book...it was a great read! Really kept my interest and was always anxious to get back to it."
Lesley M
​
"Enjoyed Vision Speak very much. Quite an epic-- intriguing and multi-layered. You did an excellent set up and plot development. I like the way you split the flow, keeping interest alive and vibrant throughout. The characters were well rounded; their reactions authentic and believable.
.... Congratulations. Vision Speak is an excellent read, well paced, to a dramatic climax."
Paul Telegdi, Author of "Dreamcast"
​
"Vision Speak is a terrific read and has converted me to reading sci fi novels which I had not considered before. Believable story line, fast moving, made me want to come back in the after life to check things out."
Ola R
​
"I really enjoyed this book - it's interesting and fast paced. You don't have to be a "science fiction" fan to enjoy it. This is her first book and it's very impressive. I'm looking forward to reading the sequel ..."
Bill B (posted to Amazon)

"Having never been much of a reader I wasn't sure what to expect when I began reading Vision Speak, but once I started there was no turning back. For the first time in my life I could literally not put a book down! I recommend this to absolutely anybody!"
Perry